Learn Lightroom Classic in 2.5 hours!
✔︎ Get your images into Lightroom
✔︎ Select your best shots
✔︎ Make them pop
✔︎ Share your results with the world
✔︎ Speed up your workflow
Get started with Lightroom: Learn Lightroom Classic CC in 2.5 hours
Learn to use Lightroom Classic the right way
Lightroom Classic is a fantastic piece of software, but if there's one thing I've learned from teaching it to thousands of users over the past ten years, it's that it can be intimidating, too. In this brand new video tutorial, you'll learn to work with Lightroom the way it was meant to be. Not only will I show you a future-proof, scaleable workflow but I'll also help you avoid the pitfalls many self-taught Lightroom users experience sooner or later.
Through sixteen short chapters, packed with practical advice, this tutorial covers everything a beginning Lightroom user needs to know, all while laying the foundation for a professional editing workflow. In the first chapters, I cover ways of getting your images into Lightroom and how to set up a successful catalog and folder structure. Then I teach you how you can leverage the power of collections to organise your images way beyond the possibilities of folders. Obviously, a big chunk of this training is also about how to edit your images to make them look their best. I'll cover all the essential tools you need to make your images shine. Even if you're already using Lightroom for a while, but never took any real structured training — bar the occasional YouTube video — I bet you will gain a lot of new insights from this tutorial.
What you'll learn in this course:
✔︎ Enhance landscapes
Does the landscape shot you got up so early for not look as nice on-screen as it did in real life? Nobody's shots do! I'll show you the magic sliders and checkboxes that turn your landscapes from flat to fabulous
✔︎ The art of black & white
Turn your images into real works of art by converting them to black & hhite
✔︎ Fix annoying problems
Wonky horizons? Buildings leaning backward? Sensor dust? You'll have them handled in no time.
✔︎ Bring order into chaos
Overwhelmed by thousands of images on your hard drive? Organise them like a pro with my tried-and-tested workflow. Learn to use Collections and Smart Collections to effortlessly master your growing photo library. I promise you that with the tools I teach you, managing your images almost becomes more fun than editing them
✔︎ Create Beautiful Photos, no matter how bad your original looks
I'll show you how to get there in no time
✔︎ … over and over again
With Lightroom's presets and synching options, you can edit dozens of images in the time it takes to do one image in Photoshop.
✔︎ Organize your images
By using keywords and ratings
✔︎ Share your work with friends, clients… or the the world!
Leverage Lightroom's Export and Email functionality to quickly send copies of your images without the hassle
✔︎ Edit portraits
Brighten eyes, make skin tones look more pleasing all with a few mouse clicks or keystrokes.
Whether you're shooting landscapes, cityscapes or portraits, the techniques and tricks I teach in 'Learn Lightroom Classic CC in 2.5 hours' are universal.
Learn Lightroom the right way
✔︎ understand how Lightroom is different from other editing software like Photoshop
✔︎ learn a failsafe way to importing images
✔︎ understand what a Lightroom Catalog really is
✔︎ discover my tried and true best practices for file and folder management
✔︎ unlock the essential develop module tools
✔︎ master the export dialog to share your images
✔︎ this course is fully downloadable. Buy it now and watch it when you like, where you like and for as long as you like!
Learn Lightroom Classic CC in 2.5 hours: Course Curriculum
Below is an overview of the course content of Learn Lightroom Classic CC in 2.5 hours. I've also put the entire first video up for you to give you an idea of the course. And don't forget… I offer a 15 day money-back guarantee, so there's no risk at all in trying out the course.
In fact… the biggest risk is to learn Lightroom without any form of training at all: if I had a dollar for every person that ever completely messed up his Lightroom catalog because he did not get the two basic rules of working with Lightroom right… I'd be a millionaire by now! Needless to say, I cover those topics in this video course.
Section 1: Getting Started with Lightroom Classic CC
01 Introduction (7:46)
02 What is Lightroom Classic (6:10)
03 Best practices: set yourself up for success with these tips and recommendations (8:22)
04 Importing images into Lightroom: the easy way (10:21)
Section 2: Managing your images in the Library Module
05 Exploring the Lightroom interface (14:24)
06 Renaming images (6:31)
07 Culling in the Library: Choosing your best images (9:45)
08 Unlocking the power of organisation with Collections (14:29)
09 Adding Keywords and Captions (6:25)
Section 3: Turning those RAW files into beautiful images in the Develop Module
10 Get 80 percent of your work done in the Basic Panel (15:47)
11 Exploring the other Develop Module panels (4:08)
12 Converting to Black & White and working with Virtual Copies (4:03)
13 Finessing your work with Local Adjustments (14:47)
Section 4: Speeding up your workflow with presets and showing your work by exporting it
14 Removing spots and cropping your image (6:07)
15 Working with Develop Presets and Synchronising settings across multiple images (7:08)
16 Showing your work to the world by exporting it (7:43)
Bonus 4: A faster way to import (10:39)
Bonus 5: Dealing with RAW + JPEG (9:43)
Bonus 6: The 3 Sharpening Stages in Lightroom
Bonus 7: What's new in Lightroom Classic CC - updated January 2019
7 Bonus videos
Bonus 1: Creating an Import Preset (4:29)
Bonus 2: Backup Essentials (5:15)
Bonus 3: Where did my catalog go? (2:06)
✔︎ 16 videos, 150 + minutes
✔︎ 7 bonus videos
✔︎ One of the most up-to-date tutorials on the planet
✔︎ A set of 10 Creative Profiles
✔︎ fully downloadable course. No membership required. Download and pay once and watch forever
✔︎ and… a 15-day money-back guarantee
Extra bonus : A set of 10 Creative Profiles for Lightroom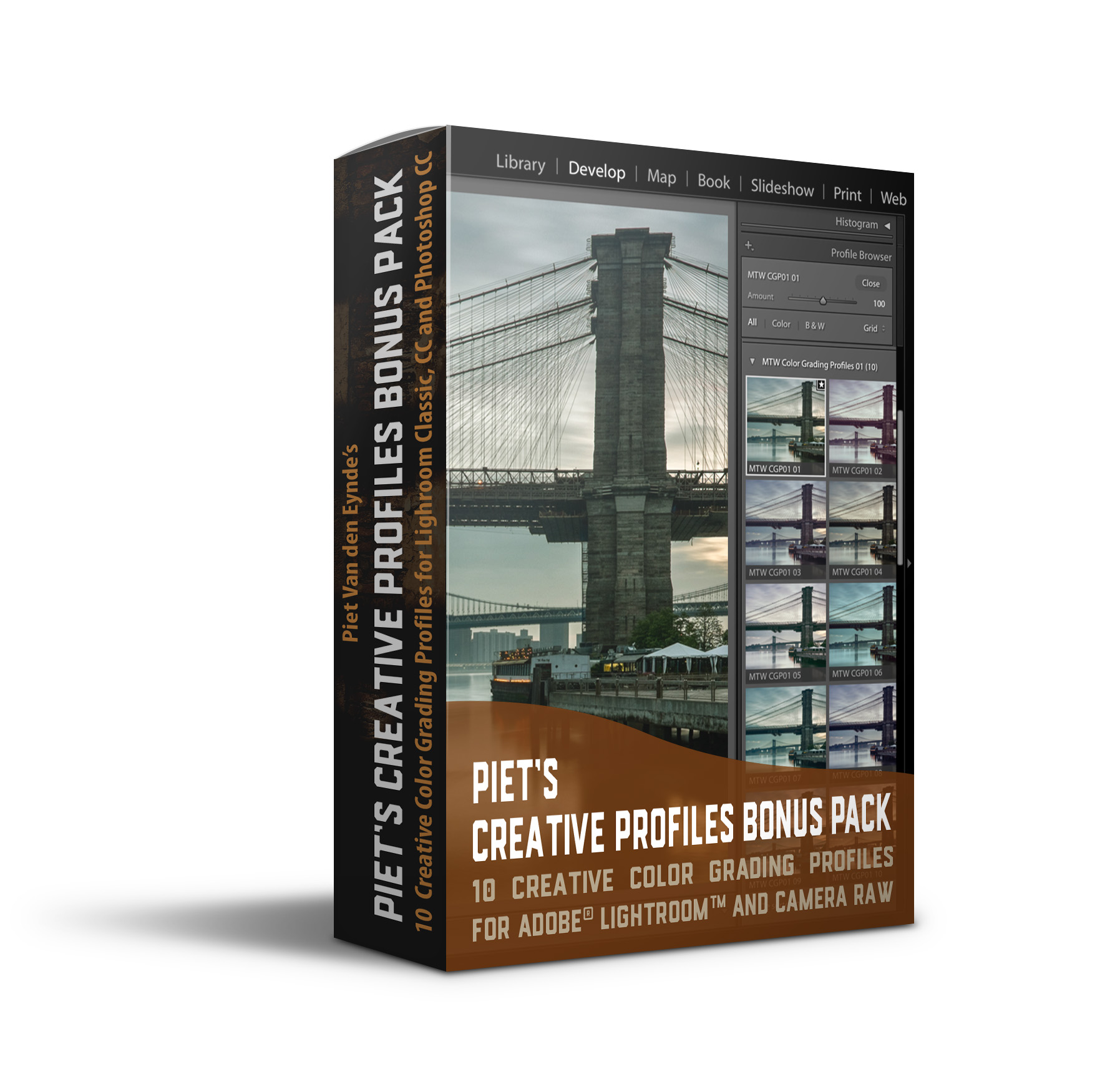 Extra early bird bonus, FREE if you purchase now
✔︎ a set of 10 creative color grading profiles for Lightroom Classic
✔︎ hundreds of color grading options thanks to Lightroom's Amount slider
Let me guide you through Lightroom…
✔︎ I'm an Adobe Lightroom Certified Expert
✔︎ author of 10+ books on Lightroom
✔︎ For the past 10 years, I have taught Lightroom to thousands of photographers
✔︎ but most importantly… because of my experience teaching Lightroom to live audiences, I know the questions, problems and pitfalls beginning Lightroom users face and I address them all in this unique tutorial
✔︎ for less than the price of a 1:1 Skype session with me, you can have me teach you everything you need to know to get off to a successful start with Lightroom.
What people are saying about my workshops and tutorials:
Some more screen grabs from the course:
Frequently asked questions
What version of Lightroom is this tutorial about?
This tutorial is about Lightroom Classic CC, because I think that this is the Lightroom version that is best tailored to the needs amateur and (semi-)professional photographers.
How up-to-date is this tutorial?
The bulk of this tutorial was recorded using Lightroom Classic CC 7.5, so it's one of the most up-to-date tutorials out there. On top of that, in one of the bonus videos, I cover the relevant new features that were introduced after the tutorial was recorded.
How is the content of the tutorial delivered?
Unlike many other tutorials that require logging in to a membership site, this tutorial is fully downloadable: after downloading it, you can store it on your own computer, laptop, smartphone or tablet and watch it for as long as you like, as many times as you like. I only ask that you don't share it with anyone else. You buy it now and you own it forever…
What if I'm not happy with the tutorial?
I stand by my tutorials. Therefore, if you're unhappy with the tutorial, I will offer you a full refund for up to fifteen days after your purchase.